Motherboard is becoming very vital component for PC building unlike 3-5 years ago you could choose any cheap motherboard and play game for whatever price. But alas, here everything is changing since RGB support feature arrival into the motherboard specs. M.2 and NVME slot features are also crucial for gamers these days. Built-in Wi-Fi became a popular feature recently when gamers don't need to buy another expensive Wi-Fi card which occupies precious PCIe slot. All the PC building enthusiasts now look for the best gaming RGB motherboard 2019.
No Time To Read? Click Here For Our Top Gaming Motherboard Picks
10 Best AMD and Intel Motherboards of 2019
| Name | Max RAM (GB) | Wi-Fi | Review | Price |
| --- | --- | --- | --- | --- |
| Gigabyte X470 AMD AORUS | 64 | Yes | | |
| AsRock Fatal1ty AMD B450 | 64 | No | | |
| MSI B450M AMD MORTAR | 64 | No | | |
| ASUS ROG Strix AMD B450-I | 32 | Yes | | |
| MSI MEG AMD X399 | 128 | Yes | | |
| Maximus X Hero Intel Z370 | 64 | Yes | | |
| GIGABYTE B360M Intel DS3H | 64 | No | | |
| MSI Z370M GAMING PRO Intel AC | 64 | Yes | | |
| AsRock Fatal1ty Z370 Intel Gaming-ITX/ac | 32 | Yes | | |
| GIGABYTE X299 DESIGNARE Intel EX | 128 | Yes | | |
Amazing new motherboard launch from AMD: B450 and X470 series, left enthusiasts and average gamers with a variety of new features and flashy design. Thankfully, Intel released new motherboard lineup for its Coffee Lake CPUs: H310, B360, H370. Furthermore, these new budget-friendly motherboards are superior to the previous generation with whooping M.2 NVME slots, Crossfire/SLI and RGB headers.
Time to build your own PC with our recommended top 10 list. Based on 15 years of PC building experience our editorial staff made an amazing careful list to satisfy beginners and enthusiasts. We spent our time and afford to select the best suited motherboard for gaming and streaming in 2019 so enjoy reading.
Best AMD motherboard: Gigabyte X470 AORUS GAMING 7 WIFI Undisputed Gaming King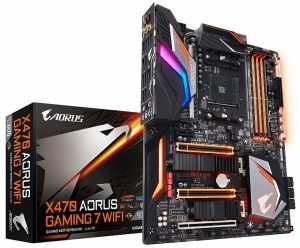 Form Factor: ATX | Socket: AM4 (Ryzen 1st, 2nd, 3rd Gen) | Chipset: AMD X470 | Memory (RAM): 4 x DIMM sockets (max 64GB) | Multi-GPU support: Nvidia 2-way SLI, AMD 2-way CrossFire | M.2 SSD: 3 x PCIe M.2 NVME | RGB Header: Yes | Built-In WiFi: Yes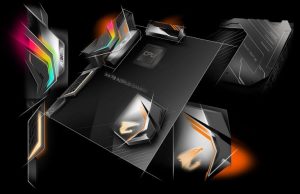 Future Proof Motherboard confirmed, it is Gigabyte X470 AORUS GAMING 7 WIFI. Whooping support up to 3 generations of Ryzen processors. One click Overclocking feature from Gigabyte will easily bring you satisfactory results from AM4 Processors. RGB colourful lighting provides controllable lights from software and special header able to connect any RGB standard fan or cooler. If you can afford to spend on future proof components we recommend this gaming motherboard to rule over your PC system.
Pros One Click Overclock
Pros RGB Full Support
Cons Expensive
Cons Large case only
Best Affordable AMD motherboard: AsRock Fatal1ty B450 Gaming K4
Overclock on Budget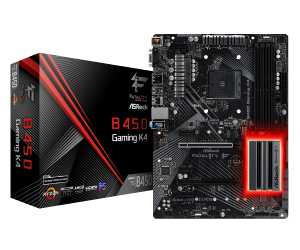 Form Factor: ATX | Socket: AM4 (Ryzen 1st, 2nd, 3rd Gen) | Chipset: AMD B450 | Memory (RAM): 4 x DIMM sockets (max 64GB) | Multi-GPU support: AMD 2-way CrossFire | M.2 SSD: 2 x PCIe M.2 NVME | RGB Header: Yes | Built-In WiFi: No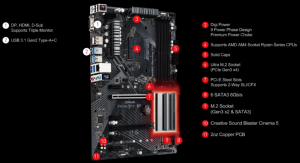 Fatal1ty series of AsRock motherboards provide best cooling optimizations at an affordable price. Incredibly, 2 m.2 slots could speed up your games' loading performance and fast transfer rates. Moreover, RGB headers included to enhance your colourful gaming mood. As AMD promised that AM4 socket will support up to 3 generations of Ryzen CPUs due to Zen architecture's fantastic scalability this motherboard will rock for long time to come. In short, this motherboard got you covered for 5 years upgrade path at a friendly price point.
Pros Cheaper
Pros Good cooling
Cons No Built-in WiFi
Cons No SLI for Nvidia Cards
Best mATX AMD motherboard: MSI B450M MORTAR Fittest of All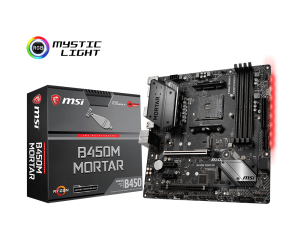 Form Factor: mATX | Socket: AM4 (Ryzen 1st, 2nd, 3rd Gen) | Chipset: AMD B450 | Memory (RAM): 4 x DIMM sockets (max 64GB) | Multi-GPU support: AMD 2-way CrossFire | M.2 SSD: 2 x PCIe M.2 NVME | RGB Header: Yes | Built-In WiFi: No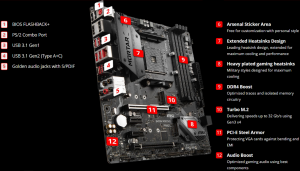 MSI technologies are very progressive in terms of cooling and efficiency. B450M Mortar packs a punch of 2-way CrossFire support and 2 M.2 expandable storage. This micro-ATX motherboard also include 4 memory DIMM slots up to 64GB of enjoyable multitasking. MSI's mystic light gives you fantastic RGB effects for gaming process. The stylish extended heatsink design over chipset and IO connectors look very worthwhile. Everything here on PCB looks compact and beautiful which is worth to call a lucrative deal for budget focus built PC.
Pros Flashy Style
Pros CossFire Support
Cons No Built-in Wi-Fi
Best mini-ITX AMD motherboard: ASUS ROG Strix B450-I
Powerful and Tiny
Form Factor: mini-ITX | Socket: AM4 (Ryzen 1st, 2nd, 3rd Gen) | Chipset: AMD B450 | Memory (RAM): 2 x DIMM sockets (max 32GB) | Multi-GPU support: Absent on ITX | M.2 SSD: 2 x PCIe M.2 NVME | RGB Header: Yes | Built-In WiFi: Yes
Tiny but powerful gaming motherboard exists in 2019. At last, ROG Strix series from Asus leading the ITX PC building race. ROG Strix B450-I contains staggering RGB AURA SYNC technology with addressable and RGB headers to push your color imagination to the limit. Specifically, addressable RGB LED connectors allows the system to control the lights independent from each RGB blocks making them to synchronize with music, game and movie. Full overclocking support is overwhelmingly excellent which is unexpected for small form factor PC. Most important, Asus did its best to optimize cooling with plated heatsink for double M.2 slots. We strongly recommend this particular motherboard due its extreme efficiency and attractive value for money.
Pros Built-In WiFi
Pros Double M.2 slots
Cons Limited RAM expansion
Best Enthusiast AMD Ryzen THREADRIPPER motherboard: MSI MEG X399 CREATION. RIP the Cores and Threads
Form Factor: ATX | Socket: sTR4 | Chipset: AMD X399 | Memory (RAM): Dual -Channel 4 x DDR4 3,200MHz (max 128GB) | Multi-GPU support: 4-Way SLI, AMD Quad CrossFireX | Features: 1 x U.2, 3 x PCIe M.2 NVME slots | RGB Header: Yes | Built-In WiFi: Yes
The nice way to put the stunning performance of Ryzen Threadripper 2990WX is a MEG X399 CREATION motherboard utilization. Magnificent 32 cores and 64 threads in 2990WX CPU will deliver light years ahead performance over any Intel motherboards. In fact, the Indonesian overclocker named Ivan Cupa could achieve 6GHz on all 2990WX cores using Liqiud Nitrogen cooling on MEG X399 CREATION. Every bit tiny thing that gamer and full time production designer need is all in here. Built-In WiFi with Bluetooth module, tripple M.2 NVME slots, RGB and addressable LED headers and 4-way CrossFire/SLI GPU support are able to get you covered on extreme production process and part-time gaming needs. Anyhow, if you have large projects to complete so the money is not an issue here. This motherboard will pay for itself right after you completed some mindboggling architecture projects in a short time thanks to multicore performance of AMD Ryzen Threadripper series.
Pros 128GB RAM Expansion
Pros Tripple M.2
Cons Expensive
Cons Needs Full Tower Case
Best Intel motherboard:
MPG Z390 GAMING PRO CARBON
Single Core RIPPER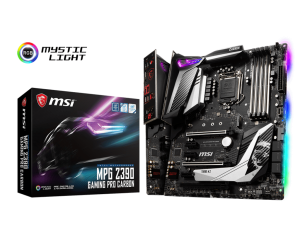 Form Factor: ATX | Socket: LGA-1151 (8th & 9th gen only) | Chipset: Intel Z370 | Memory (RAM): 4 x DIMM sockets (max 64GB) | Multi-GPU: 2-way & 3-way SLi/CrossFire | M.2 Storage Expansion: 2 x PCIe M.2 NVME | RGB Header: Yes | Built-In WiFi: Yes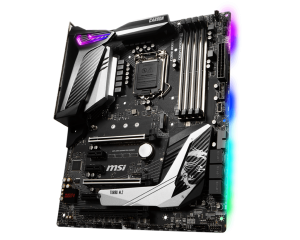 Serious Gamer who possess i9-9900K or i7-8700K with a massive cooler will be having heavy breathing watching this incredible overclocking motherboard from MSI. Gaming Pro Carbon Z390 delivers massive satisfaction with tonnes of features like addressable RGB LED support, MSI Mystic RGB lighting and 2 & 4 way SLI/CrossFire which brings reasonable PC system building pleasure. Stylish PCH Heatsink and Lighting Maximus IO Cover enhanced by Attractive MSI Mystic technology helps you to customize colors out of 16.8 billion types. Dual band WiFi integrated card came here to connect to internet your system right after you've done building. Our experienced editorial staff who builds PC system for 15 years has chosen this immersive and powerful motherboard just for you to stay happy in streaming and gaming.
Pros RGB enhanced Design
Pros Best Cooling
Cons Expensive
Cons Need Large Case
Best affordable Intel motherboard: GIGABYTE B360M DS3H
RGB effects on cheap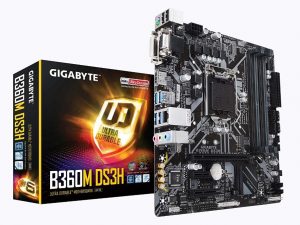 Form Factor: micro-ATX | Socket: LGA-1151 (8th & 9th gen only) | Chipset: Intel B360 | Memory (RAM): 4 x DIMM sockets (max 64GB) | Multi-GPU: No | M.2 Storage Expansion: 1 x PCIe M.2 NVME | RGB Header: Yes | Built-In WiFi: No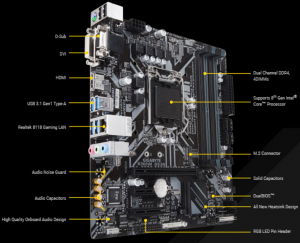 To all budget builders, rejoice and pay attention to this lucrative deal because Intel motherboards finally became cheaper after hot competition wake them up. RGB header controlled by RGB Fusion software is unexpectedly included for budget motherboards like B360M-DS3H. Surprisingly, M.2 NVME single slot included too. 4 DIMM slots brings you stunning multitasking power while you game on. Dual bios feature helps to initiate 2nd bios in a difficult situation like bios corrupt or bad configuration. Finally, B360M-DS3H is a very attractive deal for budget PC focused gamers with necessary features.
Pros RGB Header
Pros M.2 slot
Cons No multi-GPU
Cons No built-in WiFi
Best Intel mATX motherboard: MSI Z370M GAMING PRO AC
Stay in Overclocking Competition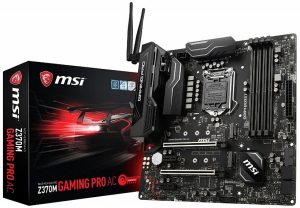 Form Factor: micro-ATX | Socket: LGA-1151 (8th & 9th gen only) | Chipset: Intel Z370 | Memory (RAM): 4 x DIMM sockets (max 64GB) | Multi-GPU: 2-way SLi/CrossFire | M.2 Storage Expansion: 2 x PCIe M.2 NVME | RGB Header: Yes | Built-In WiFi: Yes
MSI's competitive edge vision is paid off by now. Meet the best budget overclocking and micro-ATX motherboard that emits only RED LED but has RGB header producing 16.8 billion colors. Z370 chipset inside able to achieve 5GHz with i7-8700K using premium cooler. If you have mid-tower or micro-tower PC case then this motherboard is made for your needs to save space and weights lighter. Z Gaming PRO series exclusively have 2-way SLI/CrossFire multi-GPU support for rendering or 4K heavy gaming. 2 slots of available M.2 NVME storage expansions are very big advantage here. To conclude, squeezing budget process is hard but you can make it easy when you focus on OC enabled MSI Z370M Gaming Pro motherboard with basic features like RGB header and built-in WiFi.
Pros Built-In WiFi
Pros RGB Header
Cons Panel emits RED light only
Best mini-ITX Intel motherboard: AsRock Fatal1ty Z370 Gaming-ITX/ac
Packs a Loaded Punch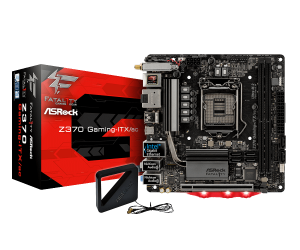 Form Factor: mini-ITX | Socket: LGA-1151 (8th & 9th gen only) | Chipset: Intel Z370 | Memory (RAM): 2 x DIMM sockets (max 32GB) | Multi-GPU: No | M.2 Storage Expansion: 1 x PCIe M.2 NVME | RGB Header: Yes | Built-In WiFi: Yes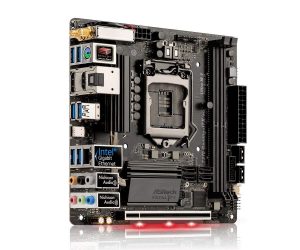 Fatal1ty Z370 Gaming-ITX/ac truly packs loaded OC punch for ITX builder enthusiasts. The cooling plates on heatsinks look immersive and sketchy stylish. RGB LED headers and M.2 NVME slot are making this tiny motherboard as light premium gaming PC part. This immersive light motherboard could easily fit any ITX and mATX case. Dual Band WiFi adapter is powerful with dedicated antenna and supports high speed. PCIe slot for graphics card is enhanced by solid metal in order to prevent bent PCB body of graphics card.
Pros RGB Header
Pros Lightweight
Cons Limited RAM Expansion
Cons M.2 slot is behind the board
Best HEDT Intel motherboard: GIGABYTE X299 DESIGNARE EX
Only for Serious Designers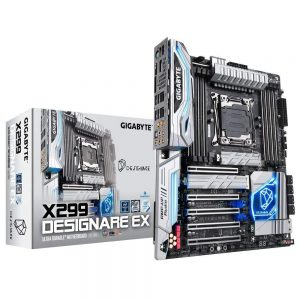 Form Factor: ATX | Socket: LGA-2066 | Chipset: Intel X299 | Memory (RAM): Quad-Channel 8 x DDR4 4,400MHz (max 128GB) | Multi-GPU: 3-Way SLI/CrossFireX | M.2 storage expansion: 3 x PCIe M.2 NVME | RGB header: Yes | Built-In WiFi: Yes
Seriously Intel, you are running faster or are you attempting to keep up to AMD Threadripper? Anyway, Intel CPUs are the KINGS of Single Core performance and Adobe software are optimized solely on Intel products in the real world performance. The programs like Adobe After Effects and Premiere Pro require Intel CPUs to export and encode the projects faster. On the other hand, AMD CPUs are fast 20-30% in rendering using Vegas Pro and Wondershare Filmora. Now we bring attention to the sketchy and flashy design of GIGABYTE X299 DESIGNARE which has custom silver-white plates on cooling heatsinks on top of IO and Chipset as well as on top of both M.2 slots. Monster support for 3-way SLI/CrossFire multi-Graphics performance enables CUDA or HPC accelerated effective rendering process. Multitasking is not an issue here because 4 DIMM memory slots will eat any applications for lunch. Pricepoint is not for pure gamers but for fulltime video editors and 3D designers who plays any triple A titles when get bored.
Pros Great Overclocking Performance
Pros Fast WiFi
Cons Expensive
Cons Needs full tower case
How to pick the best gaming RGB Motherboard 2019
Motherboard is simply defined as a compilation of main connectors for attachable PC components. It plays essential role while conducting the data exchange between CPU (Central Processing Unit), RAM (Random Access Memory) and Hard Drive (Solid State Drive or Hard Disk Drive). Additionally, motherboard's expandable slots such as PCIe slot provide connection to expandable devices like GPU (Graphics Processing Unit), M.2 SATA, Wi-Fi adapters and etc. All in all, motherboard is a backbone of nowadays PC (Personal Computer).
Gaming or Office-Home Use
Some say gaming motherboard does not make any sense if office-home general motherboard can handle any game you throw at it. Well, surely ordinary motherboards may work similar to gaming ones but not entirely they support gaming features. Clearly, gaming motherboards have significant advantage in terms of multi GPU support such as Crossfire or SLI, making them superior by adding extra frame rates. Hence, expandable slots for M.2 NVME SSDs might be absent in ordinary office motherboards. Once more RGB LED lighting support recently became main feature of true gaming motherboards. Cooling solutions from Asus or MSI branded gaming motherboards are greater than ever by enhancing high quality solid capacitors and heatsinks. We strongly recommend gaming branded motherboards for any gaming experience whether it is lite or heavy graphics gaming experience because gaming motherboard built on effective materials within cooling components.
Upgrade Path
This is more worrying issue than saving budget on buying gaming chair. Upgrade path for gaming motherboard is important part when you spend respectable amount of money with higher expectations for future. We recommend you to purchase a particular motherboard that can support multicore feature up to 8 cores and 16 threads. The big reason is that multicore support for latest games are coming strong unlike past times with 4 cores support only. For example, Far Cry 5 and Assassins Creed Origins actively use 6 cores on high settings. Extra RAM slots are also notable upgrade path for expanding additional memory performance for heavy multitasking like streaming on twitch and YouTube. Future generation CPU support is very likely high preference for gaming needs as you do not need to replace new motherboard when upgrading to newer generation CPU next coming years.
RGB LED support
Are you AMD, Nvidia or Intel fan? We got your back. RGB LED lighting may give you 16.8 billion different colors according to your mood preference. These days gaming motherboards include RGB header and addressable LED headers that compatible with any distinct branded coolers, LED strips and RGB Fans. Our Advice is "Don't be left behind from RGB trend".
Intel or AMD
Both CPU manufacturers are effectively similar in performance since AMD Ryzen line-up brought hot competition. To draw a clear line is very hard but anyway we determine the main focus on gaming and multitasking. There are must be two performance camps: first Intel camp is high frame rate and pure gaming experience only; Second AMD camp is stable frame rate gaming, streaming, browsing and rendering videos simultaneously. For contemporary gaming community the word multitasking is very popular in 2019 when they do heavy productivity tasks while gaming and streaming. Especially, twitch streamers are indeed very inclined towards AMD camp. Ryzen 7 2700X with RGB Cooler is a huge monster chip comprising 8 cores and 16 threads which can handle heavy workloads at ease. I7-8700K is also not behind from Ryzen counterparts containing 6 cores and 12 threads but comes with higher price and NO cooler included in the package. For now, pure gaming "only" motherboard is Intel and multitasking gaming motherboard is AMD. Considering the latest announcement of Intel gearing up for multitasking 8 cores and 16 threads i9 processor that comes with expensive price for consumer hence, AMD is only choice for multitasking and budget friendly for average streamers. Future releases of both AMD and Intel will be in competitive edge in terms of IPC (Instruction Per Cycle) improvements since they both vowed to shrink their CPU architecture towards 7nm and 10nm (nanometer). The smaller the nanometer interval size the greater the real world performance due to the density of large number tiny transistors.
Form Factor
Form factor is a size related feature of motherboard. ATX is biggest form factor in the market which might include 3 graphics card and 8 RAM slots. mATX is a shortened version of ATX usually supports 1 GPU sometimes includes 2 GPUs and 4 or 2 RAM slots. One graphic card limited ITX is the smallest form factor motherboard which can fit into small cases in order to save space. The considerable efficient form factor is surely mATX since it has good cooling body and space savvy size without limiting other expandable components.
Wi-Fi support
Gaming motherboard in 2019 must have built-in Wi-Fi adapter in order to avoid attaching the additional adapter that disturbs GPUs cooling process. Luckily, Gigabyte and Asus now include built-in dual band Wi-Fi adapter right out of the box. 600mb/s or 1200mb/s is the best stable speed for constant smooth gaming experience without bandwidth bottlenecks.
Overclock or factory default
Overclocking (OC) is pushing the limit of Processor, RAM or Graphics Card default speed clocks (GHz or MHz) in order to gain 3-5% performance improvement. Not many motherboards support OC feature since Intel introduced the H and B series which are only working on default Processor and RAM speed. The Z series motherboards by Intel are far more capable of doing OC because their cooling solutions provide nice overclocking environment using specially made materials applied on making of VRMs and solid capacitors. Most important, Intel told all consumers to differentiate the OC enabled or locked clock speed processors in their description. For example, i5-8600K includes K suffix which is OC capable CPU whereas i5-8500 is not. On the other hand, AMD's latest Ryzen processors are all OC enabled starting from cheapest Ryzen 3 2200G all the way up to Ryzen 7 2700X. Furthermore, the naming scheme of AMD motherboards is also simple and straightforwardly called A, B and X. The A series cannot OC anything including CPU and RAM. Surprisingly, cheaper B and pricy X series are OC capable. X series is more enhanced with SLI multi GPU support and USB type C. Budget gamers focus on the attractive price point of AMD's B series motherboard which gives you the best value for money.
Conclusion
In a nutshell, selecting special motherboard for gaming experience is not hard when you consider what functions you going to use in the long run. In 2019, true gamers must buy future proof motherboard since Intel and AMD announced their CPU production roadmap with full of exciting cutting edge processors that are compatible with our recommended top 10 best motherboards list.
Also read
[pt_view id="2bdac33nr0″]