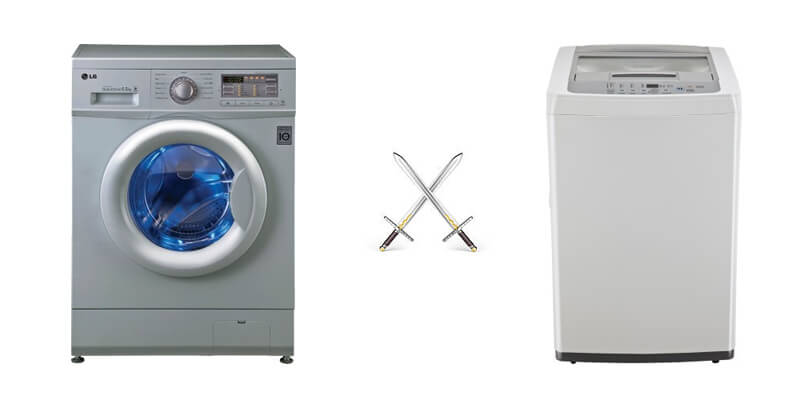 Both top load and front load washer types are getting special features to fight against the terrible dirt. Top load washers are still popular and their traditional look makes us not bent or knee when loading the clothes. On the other hand, front-load washers offer efficiency and modernized features like Smart app control. Both types improve every year by weakening vibration and sound. In this guide, I will share the best top-load and front-load washing machines in 2021 with you.
Best Top-Load and Front-Load Washing Machines 2021
| Name | Size (Cu. Ft) | Wash Cycles | Review | Price |
| --- | --- | --- | --- | --- |
| Whirlpool WTW7500GC | 4.8 | 27 | | |
| Kenmore 28133 | 5.3 | 26 | | |
| Maytag MVWC400XW [Best Top-Load Washer] | 4.3 | 11 | | |
| Whirlpool WTW4740YQ | 3.5 | 8 | | |
| Whirlpool 3LWTW4705FW | 3.5 | 11 | | |
| Kenmore 2641003 | 4.5 | 14 | | |
| Maytag MHW3505FW | 4.5 | 11 | | |
| Samsung WF45N5300AV | 4.5 | 8 | | |
| Kenmore Smart 41982 [Best Front-Load Washer] | 5.2 | 14 | | |
| Equator EZ 4400CV S + PDL | 11 | 14 | | |
From top 10 the most efficient, powerful and high rated washing machines I chose one top-load and one front-load as the best washers of 2021. I classified five as top-load and the rest as front-load. Let us see the review of each the highest rated washers.
Whirlpool WTW7500GC
The premium WTW7500GC has 27 wash cycles, 5 temp stages and four soil levels. Capacity of 4.8 cu. ft. lets a user to wash enough clothes of one man. LED display allows the user to control the washing process. There are only buttons, no turners. This washer delivers one of the best results of clean washing by having less vibration and sound.
Kenmore 28133
Having the largest capacity of 5.4 cu. ft this Kenmore model can wash maximum 24 large towels. It has a special Stainboost option that delivers longer time to strike stubborn stains while washing clothes gently. Its fabric softener dispencer allows softener and water to enter the wash basket at the right time of washing process. Electronic light conrols make your orientation easy in controlling the washer. The Deep Fill option provides a precise water control. Although it has a traditional look but its specs and features make it compete with front-load washers like Maytag and Samsung.
Maytag MVWC400XW
Via wash concentration MVWC400XW uses less water while better cleaning. For detergent to enter the fabric deeply it washes in low water level. The capacity is 4.3 cu. ft with drum material made from stainless steel. With a maximum spin speed of 800 RPM this model has a power to wash 10 kg of laundry. 1/3 HP PSC Motor operates quietly and efficiently. Additional features like cycle status display, eleven auto wash cycles, extra rinse option, auto temp control and many more add siginificant value to deliver the most efficient performance.
Whirlpool WTW4740YQ
Total 8 cycles equip WTW4740YQ to wash by two temperatures (cold and hot), three water stages (small, medium and large) and bleach dispencer. Maximum 700RPM spin speed that is lower than Maytag MVWC400XW. The basket capacity is smaller by 3.4 cu. ft. It also got sensing tech with push start, pause and unlock button. Spray rinse feature cleans any remainings of detergent deeply. Its price is about $1400 that is reasonable for having the mentioned above specs.
Whirlpool 3LWTW4705FW
Unlike WTW4740YQ this model has different specs such as spin speed up to 660 RPM, 15 kg capacity, 3.5 cu. ft. basket, eleven wash cycles and 3 auto spin speeds. 21 programmes gives several different options to get different results. Bleach and fabric softener dispencers are right specs to get maximum gentle results. Overall, this model has different strength like 21 programs compared to other top load washers.
Kenmore 2641003
All in one washer from Kenmore has 4.5 cu ft. capacity with front load design. Perfect for those who are limited in space. No need to get dryer. It is a combo washer and dryer. Its fast wash option finishes in 24 minutes. 14 wash cycles assist to give prior command for any fabric to be washed. You can add forgotten items while the washing process is on. The good thing it has is condensing vent-less drying. This model comes in two colors: white and metallic.
Maytag MHW3505FW
This time Maytag made a washer with Stem for Stains and Powerwash options. The Stem for Stains option weakens the stains The Powerwash option cleans daily hard stains by one wash. With 4.5 cu. ft capacity its 11 wash cycles give more options to get satisfactory results for any cloth. Five temps stages and four soil levels allow you to control the wash precisely. I consider this model as one of the best value washers.
Samsung WF45N5300AV
The most modernized but cheaper WF45N5300AV has Smart Care app to control and troubleshoot the washer right from the mobile device. It has typical 4.5 cu. ft capacity. Its exterior is fingerprint resistant to save time for cleaning and have great appearance. Self clean feature makes its lifespan longer by cleaning the most important parts of the washer every 40 minutes. Not good thing is you must get a dryer for it. It is not combo washer and dryer but modernized features worth its price.
Kenmore Smart 41982
Having the largest capacity of 5.2 cu. ft. has app controlled feature too. It can work even with Amazon Alexa. With 14 different wash cycles you control it by your mobile device. In 29 minutes the fast wash cycle finishes its job. One weakness is no drying function it has. You need a dryer to get you clothes ready. It is better than Samsung WF45N5300AV in terms of capacity only but price is around $1100.
Equator EZ 4400CV S + PDL
Another all in one washer comes with a pedestal and capacity of 4.0 cu. ft. With spin speed of 1200 RPM and 12 wash programs it uses little water to let detergent enter the fabric deeply. Say bye to the dryers. Perfect for space savers. Refresh function makes clothes fresh and fluffy. The price is obviosly high, at $1320.
Wrapping Up
In washers industry there are many alternatives to buy. In this topic I covered only the washers but not focusing deeply on combos. That's why I choose only 2 single functioned washers from top-load and front-load categories. You are ok to choose any of them as our preferences may vary.
How to choose the Best washer
As we could notice, there are around 150 distinctive clothes washer models sold in the US today.
That means everything from standard front-and top loaders to minimized, unitized, across the board, and different various irregular styles. Inside that definition of washers, around twelve standard brands and a bunch of new companies and littler organizations duke it out for your business.
How would you handle picking the right washer when alternatives' number is so big? The typical answer is you figure; you pick a set budget, find something in that value's range, and look for the best.
In any case, a great deal of specs become possibly the most important factor in the present machine marketing. From washers with worked in sinks to double units with two cleaning tubs, clothing truly doesn't appear as though it used to. Luckily, we're here to help. Think about this article as your clothing soul control, driving you to the ideal clothes washer for your home.
Past the self-evident – that front-opening washers open from the front and top load washers open from the upper door – there are some noteworthy contrasts between the two types. These qualifications will help educate your buy, as each clothes washer you'll take a gander voluntarily be either front-or top load.
Will your new washer fit in your home?
While the greater part of conventional front-and top load washers measure around 27 or 28 inches wide and 30 to 35 inches down, their stature measurements are very extraordinary. That is on the grounds that front-stack models have front-mounted showcases (much like a slide-in front-control range) and best load models have back-mounted presentations (much like a detached back-control run).
On account of this plan distinction, numerous front-loaders have discretionary stacking packs so you can actually put your coordinating front-opening dryer over your washer (dependably stack the dryer over the washer since it weighs less).
Putting over is perfect when you have constrained area for your clothing pair, since you can exploit vertical space. The last place I lived had a storage room put aside for the water warmer, the HVAC framework and a little washer and dryer. All things considered, the choice was simple – it was either a reduced front-stack stacked clothing pair or nothing.
Nevertheless, that doesn't mean front-load washers are reasonable for tight spaces. If you locate a stackable front-opening washer and dryer you like, it's likewise normal to introduce them next to each other. For top-loaders a next to each other location is (maybe clearly) your exclusive choice.
Notwithstanding a washer's outside measurements, you will likewise need to consider size of the washing drum inside the washer. Barring minimized units, the greater part of which have a drum some place in the 2-cubic-foot extend, the big part of standard-measure front-and top load washer drums today go from around 4 to 5 cubic feet. That is an extraordinary range for an average 8-pound stack.
Partially agree on a run of the mill stack that means two vast shower towels, two sets of my pants, two sets of his slacks, and two of his conservative dress shirts. Taking a gander at that short rundown of things, I'm certain that we deliver no less than 16 pounds of clothing for every week – which would measure up to two heaps of clothing week by week in a standard-sized washer.
Obviously, as a clothes washer drum draws nearer to 5 cubic feet, the all the more effectively it can deal with bigger burdens. You'll additionally discover unobtrusive drum measure contrasts when you look at front-and best load washers. Most front-loader drums extend from 4.2 to 5 cubic feet (with a couple of sub-4-cubic-foot special cases from Frigidaire and GE and some 5 or more cubic-foot exemptions from LG and Samsung).
Top-loader washers are everywhere, going from 3.2 to 6.2 cubic feet, and they're entangled by the way that more affordable models still depend on a conventional fomenter – the plastic bar that reaches out from the base of a top load washer to the highest point of its tub. Instigators are a heritage highlight left finished from the last age of washer tech and they suck up valuable cubic film from your washer tub. Along these lines, a top loader with a fomenter is nearly ensured to have not exactly a 4.5-cubic-foot limit, basically on the grounds that the instigator is hoarding a portion of the space normally saved for garments.
In the US, most washer makers have supplanted their old-school fomenters with a lower-profile elective called an impeller. Less meddlesome than customary instigators, impeller-style washers normally have bigger storage since you don't have that fomenter shaft in the way.
Regardless, you're likely going to spend at least $500 on another clothes washer, yet there are likewise clear cost incongruities amongst front-and top load washers.
A glance at execution
We've seen many clothes washers. While despite everything we have far to go before we've tried the greater part of the models available, top-stack washers have earned our best (and most exceedingly bad) recolor evacuation execution scores up until this point.
Interestingly, the front-load washers we've reviewed tend to fall some place in the center execution insightful, with a couple of exceptions on either side. Take a look at the diagram to see with your own eyes.
Top-load washers are by and large less effective since they tend to utilize more water during the cleaning cycles than their front-opening competitors.
We observed this to be *mostly* valid amid our testing. In particular, we utilized two stream meters (one each for hot and frosty water) to figure what number of gallons of water a washer utilizes amid a typical cleaning cycle, with ordinary soil, heated water and high turn settings.
The front-load washers we tried arrived at the midpoint of only 8.74 gallons of water for every heap, though the top load washers we tried for examination found the middle value of 17.94 gallons of water for each heap.
That implies those particular top load models utilized two times more water than the front-loaders we tried all things considered. Obviously the additional water didn't assist the top loaders especially either, since their execution comes about are everywhere throughout the outline.
Interestingly, only one out of every odd best load washer procures the HE assignment. ACI clarifies that, "Top-stacking washers that are marked 'HE' utilize low-water volume wash cycles. They have either no inside post or a littler measured focus post rather than a customary fomenter." That implies conventional instigator prepared best load clothes washers don't qualify as high-proficiency machines.
Extraordinary features
All clothes washers today play out a similar fundamental capacity. That is the reason their control boards appear to be comparable. You'll generally have a typical cycle and more often than not less than eight or nine more claim to fame cycles and an approach to change temperature, turn and soil settings.
Nevertheless, the present washers are accomplishing like never before previously, particularly when you take a gander at higher-end models. Here's a snappy diagram of a bunch of cutting edge washer highlights:
Auto-pilot: GE's best load GE GTW750CSLWS clothes washer has an element called "Brilliant Dispense Technology." Like a Keurig espresso producer with a connected water repository, the GTW750CSLWS has a cleanser store intended to hold "up to 75 ounces" of cleanser. When you're prepared to begin a cycle, this washer will detect the measure of cleanser you require, dispatch it from the repository naturally, and spare the rest for up and coming cycles.
Worked in sink or spigot: Yes, the truth is out – the Samsung WA52M7750AW has its own sink. in the event that your pantry isn't sufficiently vast to suit an independent sink, however you like pretreating extreme stains and hand-washing fragile things, this component may work for you. Different models, similar to Whirlpool's WTW7500GC and GE's GTW750CSLWS have coordinated fixtures.
Numerous washer tubs: LG shook up the clothing market when it presented its Sidekick washers. Some portion of LG's Twin Wash framework, these little limit clothes washers fit inside a platform. That implies you could have a normal front-load washer up top and a littler, auxiliary washer underneath with its own water line for synchronous cycles. Samsung went with the same pattern in mid 2017 with its FlexWash System.
washing machine care
Step by step instructions to look after your washer
1. Hoses
Water hoses
Check your clothes washer's water hoses for indications of wear or shortcoming a couple of times every year. In case you find any breaks or rankling, replace the hose. Any harm could cause a break or burst – and to a great degree costly cause a harm in your home.
Most producers prescribe replacing the hoses like clockwork. For more genuine feelings of serenity, utilize fantastic, hardened steel hoses.
2. Avert surge harm
Floodstop
If your clothes washer's fill hoses burst or water level switch glitches, you will have to wait a moment of water flood in the room.
These two items can keep this:
Water Shutoff System
This water shutoff framework counteracts water harm via consequently stopping the water stream when a breakdown is distinguished. Fixing can be finished in five minutes. No uncommon devices are required.
Clothes washer Overflow Pan
For littler holes and dribbles, this famous plastic skillet fits underneath a clothes washer and will shield a story from water harm because of flood and spillage. It has a fitting to oblige deplete line connection.
3. Try not to over-burden it
Open clothes washer
Take after the proprietor's manual's directions for suitable stacking sizes. Larger than usual burdens will startle the machine and that will prompt issues.
4. Keep it lifted
Lifted
It's unusual for clothes washers to vibrate the floor and dividers of your pantry. In case, your clothes washer isn't precisely lift, with every one of the four legs on the floor, it might shake forward and backward and vibrate firmly.
It's best to keep the machine as near the floor as could reasonably be expected. The closer the machine sits to the floor, the less it will vibrate. The front legs are customizable with a locknut. Position the legs at the coveted stature and fix the bolt nut against the body of the machine with the goal that the legs can't turn. A few models additionally have customizable legs in the back, as well. Take after a similar procedure for changing those.
It is more typical for machines to make them alter raise legs. Request that somebody help you with this. Tilt the machine forward on its front legs so the back legs are three to four crawls from the floor. When you set the machine down to lay all on each of the four legs, the legs ought to change consequently. On the off chance that you find that they are not level, tilt the machine forward again and tap on the back legs with the handle of a sledge to slacken them. Another choice is buy leveling leg cushions to aid commotion decrease.
5. Utilize the suitable measure of cleanser
Clothes washer cleanser
Despite what's suggested on cleanser bundling, take after your proprietor's manual for the producer's prescribed measure of cleanser. On the off chance that you have delicate water you should significantly lessen the measure of cleanser utilized. Dependable guideline is a thin layer of suds in the clothes washer cycle. On the off chance that there is excessively numerous suds, the wash cycle may not get them hard and fast.
6. Clean within once month to month
Clothes washer inside
It's regular for cleanser container to develop within clothes washer tubs. Utilize a cleaner once every month to keep high-proficiency clothes washers free of scent causing storage.
7. Wipe out the cleanser container
Cleanser allocator
Gooey in nature, fluid cleanser is known to gum up along cleanser containers. Utilize a clammy cloth and boiling water to clean the distributor intermittently. In case you're utilizing cleanser in a fomenter you can weaken the conditioner with water to improve it stream and not shower in the instigator.
8. Clean the outside
Clean Machine
Spilled cleanser, recolor remover and cleansing agent dry to a sticky chaos. This universally handy cleaner and a cloth will make cleaning simple.
9. Contact up slashes and scratches with paint
Washer contact up paint
Forestall rusting by dealing with cuts and scratches immediately utilizing touch-up paint.