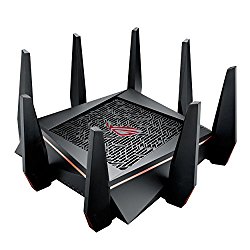 It is seriously hard to pick the best router 2019 while you need to consider several specs. We will help you choose the best wireless router 2019 in our top powerful and durable list.
No Time To Read? Click Here For Our Top Wi-Fi Router Picks
Best Router 2019
Price always matters when it comes to speed and coverage. Do not hesitate to spend enough money for getting the right wireless router. We have classified them into several types: budget, gaming, widest coverage and so on.
| Name | Review | Price |
| --- | --- | --- |
| Asus RT-AC68U | | |
| TP-Link Archer C3150 V2 | | |
| Asus RT-AC86U | | |
| Netgear Orbi | | |
| Google WI-FI | | |
| NETGEAR Nighthawk GS810EMX | | |
| Asus ROG Rapture GT-AC5300 | | |
| TP-Link AD7200 | | |
Best budget routers
Asus RT-AC68U Dual-band Wireless-AC1900 Gigabit Router

Latest Price
The first entry in our list is the Asus RT-AC68U and it is also one of the cheapest in the list. At about $139.99, which is down from its original $159.99 this router packs some serious specs. To begin with, this router supports Dual-band with the latest 802.11ac 3×3 technology. It comes with three antennas and this allows is to reach speeds of up to 1900 Mbps combined. It supports IEEE 802.11a, IEEE 802.11b, IEEE 802.11g, IEEE 802.11n, IEEE 802.11ac, IPv4, IPv6 network standards.
This router has 1GHz Dual-core processor which supports multitasking. Due to this multitasking this router can netter manage the data and separate lanes for Wi-Fi and USB. Since this router supports dual band, its 5 GHz channel provides up to 1300 Mbps speeds with 802.11ac for Gigabit internet and its super-charged 2.4 GHz 802.11n channels gives speeds up to 600 Mbps. Furthermore, this router has built-in USB 3.0 and USB 2.0 ports. It is possible to connect any USB powered devices to those ports such as 3G or 4G modems or printers.
One of the great things about the ASUS routers is that they have a wonderful software for the users to manage their routers with ease. The setup is very simple and straightforward process and it can be done in few simple steps. Their software is web based and it allows easy monitor and manage the network. Furthermore, intuitive ASUS Router App makes it even easier to manage the network even without using web application. This router is secured by using AiProtection Powered by Trend Micro™. It adds several stages of protection to the router and makes it easier to identify any trends and vulnerabilities.
Best value router
TP-Link Archer C3150 V2

Latest Price
Priced at about $174, this router is a bit more expensive than the previous entry, but it adds several features that differentiate it. Just by looking at it, it looks like a normal average router, however this router support speed up to 3150 Mbps. It uses 1024 QAM and 4-Stream technology delivers fast and stable internet connection which is advertised to improve WI-FI sped up to 80%. This router also utilizes dual band technology with 2.4GHz supporting up to 1000Mbps and 5GHz supporting up to 2167Mbps download speeds. This router is advertised to be able to stream 4K content without any lags or provide stable connection for online gaming.
Router utilizes 1.4 GHz dual-core processor with 2 co-processors and XStream processing architecture. This should be more than enough for stable and fast internet without any lags or freezes. With Multi-User MIMO technology, several devices can be connected and used freely without affecting the internet speed of each other. Some other routers will reduce the internet speed when connecting several devices, however this router can connect few devices without reducing the speeds. This router also uses 4 powerful antennas with beamforming to provide good coverage and performance.
Setup and management of this router is even easier with use of TP-Link Tether app that is available on iOS and Android. TP-Link HomeCare security system can easily detect and protect any home devices such as computers, smartphones or other smart devices. The router comes with free 3 year antivirus that can be subscribed for further use. Overall, this router is good value product, which is great for multimedia.
Asus AC2900 dual-band Wi-Fi router (RT-AC86U)

Latest Price
For around $24 dollars more, there is Asus RT-AC86U and it comes with several more features than the TP-Link product. This router also support dual-band 2.4GHz and 5 GHz with combined output of 2900 Mbps. It features latest 802.11a/g/ac/n MU-MIMO technology, for fast and smooth data transfer. This router is not gaming certified but it can provide a lag free gaming experience and it is suitable for 4K streaming WTFast Game Accelerator and Adaptive QoS technologies. In terms of performance this router will not disappoint anyone.
For the internals, it features 1.8GHz ARM dual-core processor with 512MB RAM and 256MB of storage. Not the fastest solution when comparing to some other routers in this list, but it is decent enough and faster than TP-Link router. Due to the fast internals, it can provide much smoother and lag-free experience. For the ports there are 1 Gigabit WAN port, four Gigabit Ethernet LAN port, one USB 3.0 and one more USB 2.0 ports.
This router also comes with many interesting features. Such as Aiprotection by Trend Micro, which is a built-in antivirus that provides 24/7 protection from external threats, so that they are being neutralized before even reaching your devices. This is a very handy feature for more secure connectivity. Just like other Asus routers, this one comes with ASUS router app, which can be used to setup your network, manage data usage and many other functions. If something is going on the app will notify the user so that a user can take appropriate action. Overall, this is a well-balanced device with great functionality, good speeds and connectivity options.
Best wide coverage routers
Netgear Orbi Wi-Fi System

Latest Price
If you need a fast internet for a large home or an office, then Orbi Whole Home Wi-Fi System is a must for you. This kit comes with a Wi-Fi router and 2 WI-FI extenders. With those extenders coverage can be extended up to 5,000 square feet. Even large homes and offices can easily be covered with that distance. Since it already comes with a set, it is very easy to set up and use. Other routers cannot reach this kind of coverage and will require some sort of extenders. Those extenders not always work for each router and they will not as stable as Netgear Orbi. Because this kit consist of same products, they are easy to set up and use. This kit is very unique in its design too and it will look very beautiful and blend with any piece of furniture.
For faster speed and more stability, this router uses tri-band technology 802.11a/b/g/n/ac (802.11b/g/n at 2.4GHz, 802.11a/n/ac at 5GHz). The router comes with two channels 2.4GHz and 5GHz. Its advertised speeds are AC3000 1733Mbps, 866Mbps and 400Mbps for tri bands. For the connectivity it comes with 4 Gigabit ports and one USB 2.0 connection. Overall, it is very similar in its connectivity options to other routers. It is MU-MIMO capable for even more stronger and stable internet connectivity. It comes with a fast processor, 512MB RAM and 4GB storage. Setup and management process is simple and easy by the smartphone app. If the wide coverage is all that you are looking for then this is the best solution for you. However, it is a bit pricey as compared to other solutions.
Google WI-FI

This is another wide coverage router. This kit comes with three Wi-Fi points. Each point is capable to cover 1,500 square feet and three in the kit will be able to cover up to 4,500 square feet. Together these three routers create a connected Wi-Fi system with good coverage that helps to eliminate dead zones and reduce buffering issues. This kit is surely has less coverage than Orbi, but it comes at a cheaper cost. This three access points are small in size and can be easily hidden if needed. Though, it might not even need to be hidden as it compact and it has a beautiful design. This modem works with any internet provider and it is easy to install and use.
It is rated as AC1200 with 2 time 2 Wave 2 connection and TX beamforming. It support 802.11ac at both 5GHz and 2.4GHz channels. For connectivity it features 2 Gigabit Ethernet ports per WI-FI point from which one is WAN and another is LAN port. This router is also a Bluetooth ready. This router does not feature some crazy features that many other routers do nor as powerful as many others on this list. Despite that this router can provide a stable internet for a large space while being very compact and have a beautiful design. Furthermore, if you desire you can get a kit of onlyw two WI-FI point which will be much cheaper, but will be capable to cover more than most of other routers in this list.
Best gaming routers
NETGEAR Nighthawk Pro Gaming GS810EMX

Latest Price
If you are a gamer and games all that you care, then look no further. NETGEAR Nighthawk Pro Gaming GS810EMX is one of the best gaming routers. When it comes to gaming, the connectivity is really important. When watching a video, it is completely fine for a connection to go slow or fast over the time as long as it is buffering. When it comes to gaming, the connection must be very stable and smooth. When connecting is unstable and connectivity changes from slow to fast and vice versa, it disrupts the game and can cause the game to freeze and lag. It can even crash the game because the connection to the server is unstable. That is why, there is a niche for gaming routers that pack mostly gaming features and are specifically designed for gaming.
This router comes with two 5-speed 10G/Multi-Gig ports that can be combined with link aggregation that can reach the speed of 20Gbps and up to 10 normal Ethernet 1Gbps ports. It features a Netgear gaming software, which helps the user to fine tune the router and monitor the performance real time. This router provides very low latency for stable gaming experience and fast connectivity. And not to mention that this router comes with one of the most important gaming feature- a fully customizable RGB lighting. Lighting can be customized through a software and it comes with few lighting effects and 16.7 million colors to choose from.
One of the downsides of this router is that it does not support WI-FI. Despite WI-FI is not that important for gamers and for low latency and stable gaming experience anyone needs an Ethernet connection, it would be great that this router had some WI-FI connectivity. There are devices that are not meant for gaming and they need wireless connectivity. With this router you are getting the best wired connectivity, but at a cost of wireless connectivity. Other than that this is one of the best routers meant for gaming.
Asus ROG Rapture GT-AC5300

Latest Price
If you need a gaming router and you want a wireless connectivity for all of you devices, the Asus ROG Rapture GT-AC5300 is a great choice for you. This router costs as much as double of Netgear Nighthawk, but it comes with WI-FI connectivity. Indeed, this router is very expensive as compared to other routers in this list, however it is the only one that supports AC5300. This router will be too much for most of the readers and we do not recommend this router unless you are a gamer and you need fastest internet to play games. This device is a part of Asus ROG brand. This is their top of the line high end gaming products brand and it comes with a lot of features and cutting-edge tech.
Asus GT-AC5300 offers 4×4 MU-MIMO connectivity that allows simultaneous connectivity for many devices at the same time. Where an average router will let the user to take turn in receiving data, this router can support few devices at a same time for a fast and stable connectivity. This router is a triband and it can deliver up to 5300Mbps combined output. This router comes with two 5GHz bands, from which one is made specifically for gaming devices and another one is for any other device that is not meant for gaming. There is also a one 2.4GHz band for the devices that does not support 5GHz.
This router comes with eight antennas for the best connectivity and coverage. Besides that the router also has two USB 3.0 connections and eight gigabit Ethernet ports. Two of those ports are dedicated for gaming devices only and two more can be combined to create aggregated link for 2Gbps connectivity. The device comes with 1.8 GHz 64-bit quad-core processor 1GB of RAM and 256MB of internal storage.
This router has so many different features such as VPN Fusion, Game IPS, Game Radar, Range Boost, AiMesh Support, Smart Connect and even comes with built-in malware protection. This router definitely comes a bunch of great features. If you are a gamer and you need the best of the best regardless of the cost, then this router is for you. For ordinary people this router will be too overkill and we recommend them to select something else in this list.
Best high-end model
TP-Link AD7200 Wireless Wi-Fi Tri-Band Gigabit Router (Talon AD7200)

Speed is the only thing that can describe this device. This is indeed the fastest wireless router in the world. It uses 802.11ad which is the latest and the most powerful innovation in wireless technology. No matter what devices you will connect to this network you will enjoy a smooth network with complete with wide coverage. With this device you can easily stream a 4K videos or share several gigabytes of data with smooth speeds using 60GHz band. This device supports multi-band with 4-Stream technology that delivers combined output of up to 7200Mbps. This router comes with three range bands, a 2.4GHz with 800Mbps speed, 5GHz with 1733Mbps speed and 60GHZ with crazy 4600Mbps speeds. Each bans supports up to four streams. Not to mention the MU-MIMO technology, which will provide a fast user experience to a several devices connected at the same time.
For the internals, it has 1.4GHz dual-core processor, 512MB of RAM and 32MB of internal storage. For the connectivity there are four Gigabit LAN ports, one Gigabit WAN port and two USB 3.0 ports. This router has eight fixed antennas and one 60GHz antenna array. Its main features are the AD wireless technology, multi-band technology and beam-steering technology. The first two are self-explanatory while beam-steering is a technology that utilizes the 60GHz band. This technology detects objects on the path of wireless connectivity and it direct the connection to the clearest path to devices. When there are no object on the path, then this technology send the wireless connection around it for a stronger connection.
This router comes with a two years warranty and 24/7 support line that will help you if you encounter any issue or need some help. In terms of built quality, this router will not disappoint. This router also comes with variety of built-in safety features. There is also a smartphone app that helps to set up and manage the network. The app will also notify the user with pop-ups in a case of something happens with a router or internet connection. Nevertheless, this is just the best of the best and the beast when it comes to wireless connectivity speeds. If speed all you need, then look no further.
Conclusion
It is clear that there are really a lot to choose from. This list was made to make it much simpler for the average consumer to choose their WI-FI router. We have featured five categories, such as best value, best budget, best coverage, best for gaming and best top range routers. If you are looking the best budget choose with decent functions and stable and fast connectivity, the Asus RT-AC68U is the best solution for you. If you are willing to spend just a bit more then TP-Link Archer C3150 V2 and Asus RT-AC86U are way better products with many great features, faster speeds and better security and in a case of TP-Link there is a free antivirus that comes with a router. If you need to cover a huge space such as a large home or an office, you do not want to install cables everywhere and you want simplest and easiest set-up process, then Netgear Orbi is the best. For a little less toy can also get a set of three Google WI-FI routers. They are not as powerful as Netgear Orbi, but they provide good stable internet and at the same time they are small in size and look nice. If you are a gamer and you need the best and fastest internet that is specifically tuned for online gaming the NETGEAR Nighthawk Pro Gaming GS810EMX will be your choice. However, if you are not happy that Nighthawk does not come with WI-FI and want the fastest gaming router and willing to pay the price, then Asus ROG Rapture GT-AC5300 is the best gaming router you can buy period. Last and not least, there is TP-Link AD7200 with best in-class performance and great functionality. Furthermore, it is the first in the world to use 60GHz band and 802.11 AD technology. This is just the best router you can get for the money. However it costs three times more than some of other value oriented products on this list.
Summary
In this modern age of technology and internet routers play a tremendous role in a home and office network. Due to the use of many smart devices that use WI-FI connection to connect to the internet, more and more demand is associated with WI-FI routers. Also due to the large amount of devices that are used in a home, there is a need for a powerful and stable WI-FI connection. Current WI-FI routers have been greatly improved in the recent years to be able to provide stable and fast internet through the wireless connection.
Today we have a lot of routers that are available at sale and they are from many different companies. It is great that we have a lot to choose from. However, sometimes it is hard for an average consumer to choose one that fits for the needs. Average consumers might buy the wrong product very easily and be very unsatisfied with the purchase. That is why customers are looking for a source of knowledge and information that will help them to make a purchasing decision. We all understand that frustration when you are buying or first router or just want to upgrade your old router. In order to help our readers to choose good router that will better suit their needs.
Also read
[pt_view id="6c2ed7eowj"]