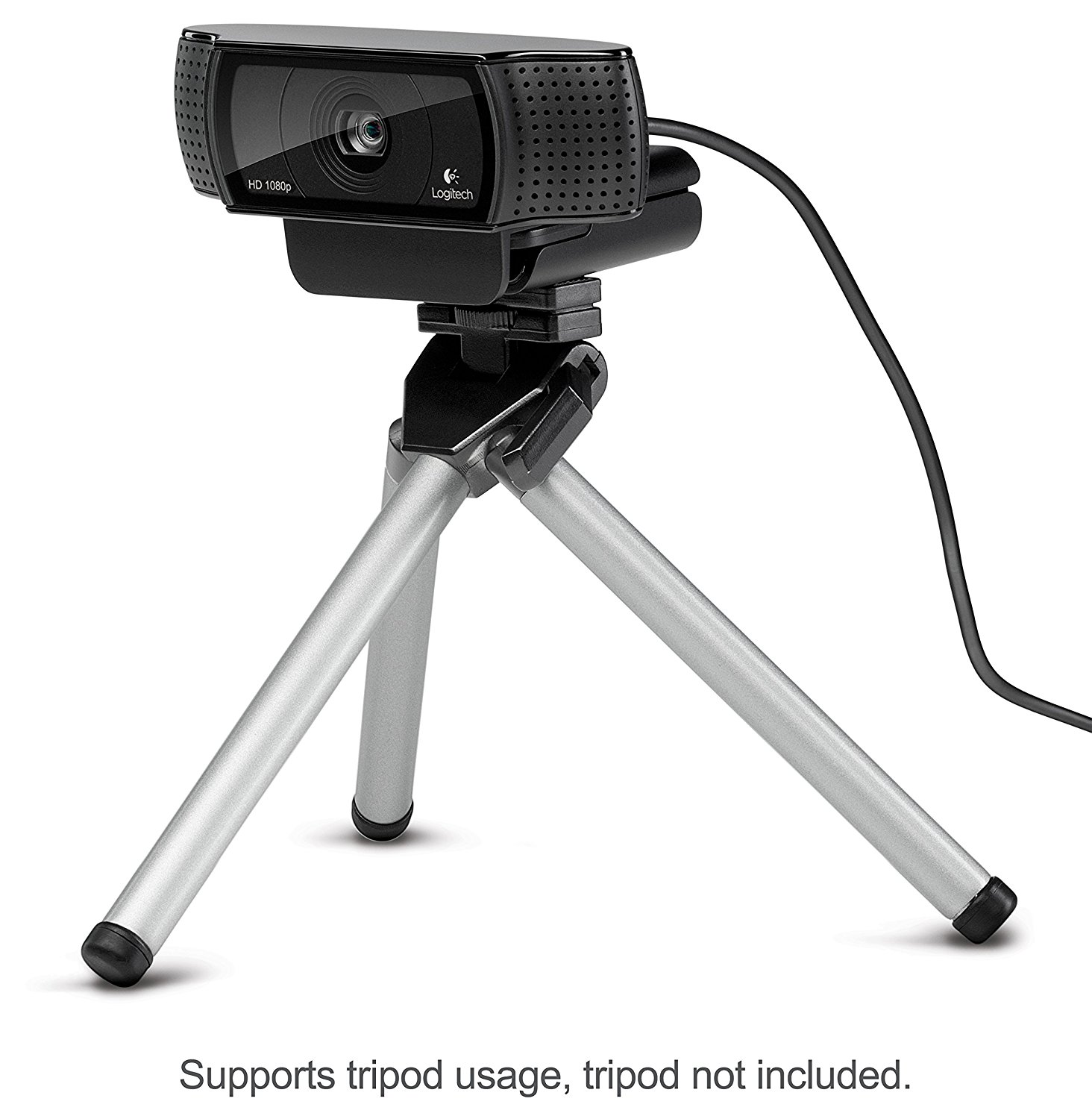 You can't make a great video for YouTube using just your smartphone. Smartphones are just for amateur videos. Only best camera for youtube can make your videos outstanding.
For those who are new in vlogging and for those who does not know what is their next YouTube camera, we have created a list of cameras that are good and can be used by many vloggers. We have categorized those cameras as best budget, best beginner and best professional camera. No matter what the person is looking for, we have it all covered.
Best Camera For YouTube – Top 6 Most Viral Video Makers
Logitech HD Pro Webcam C920 – Best Budget Camera
For those who just starting or those who only need a camera for streaming their game-plays, this is a great value buy. This product is having a sale on Amazon and now it is just around $54. Despite being just a webcam, this camera can capture great details and it is able to capture HD and FullHD 1080p videos at 30 frames per second. It uses H.264 video compression. It has built-in dual stereo microphones that capture clear sound and provide noise cancellation feature. This camera can also correct low light automatically. This camera can be used for vlogging and streaming easily. This camera features universal clip that can be used on any laptop or a monitor and it is also a tripod ready if the owner is planning to use it on a tripod. Lastly, it can capture photos and has a face traction function.
GoPro Hero5 Black – Best Budget Camera
This is an action camera. It is a very small camera, but this little camera is capable of filming 4K videos. It is a small and rugged cameras, strong enough to be used anywhere. Because it is small and powerful it is always used by many YouTubers. Many who film cars or sports and outdoor activities use this camera. This is a great budget alternative for those who want to film a lot of action and need a very powerful and sturdy camera that can withstand almost any weather condition. GpPro cameras not just a small and strong cameras, but they have many special features that even more expensive cameras do not have. Adjustable frame rate, slow motion capture, and the ability to change the width of a frame are just some of those special features that these cameras are equipped with.
Panasonic HC-V180K – Best Budget Camera
This camcorder is very lightweight and compact device, yet it is capable of filming 1080p videos at 30 frames per second. It features an intelligent 90x zoom. Five axis Hybrid Optical Image Stabilization provides maximum handheld stability. This ensures that the video quality will stay sharp and the image will not be shaking or blurry. It also features 2.7″ LCD touch screen with great responsibility. It also has 2-channel microphone for clear audio. For those who are interested filming good quality videos for their vlog, this will be a great choice. This camera has all the features needed by a budget vlogger. Furthermore, it is portable unlike all those webcams that are available at this price point. This camera is also great for those who are just starting their journey in vlogging.
PANASONIC LUMIX G7 – Best Beginner's Camera

This is a great beginner's camera with all the great features that a camera is capable of providing at sub $1000 category. This is a mirrorless lightweight and compact camera that is capable of taking videos in 4k or 1080p 60FPS quality. This quality videos are unavailable on other cameras at this price range. This is great camera for taking still pictures too. Because of its low price and many good functions, it is favored by many people who just want to start vlogging. This camera features 16 megapixels. This product also comes with 14-42mm lens and it supports many other lenses. Furthermore, this camera features a WIFI connection so that the user can share the videos and pictures through WIFI connection. This camera has good autofocus and it is very simple and intuitive to operate. For those people who are looking for simple yet powerful camera, then G7 is the best choice for you.
Canon EOS 80D – Best Beginner's Camera
This is another great camera that can be used by vloggers. This is a kit that comes with everything you need for recording videos. It comes with 24.2 MP (APS-C) CMOS Sensor, which features Dual Pixel CMOS AF. It delivers faster and smoother autofocus for video and picture. This function really helps with filming videos, while ensuring that the focus is achieved naturally and precisely. This helps easily change between objects and object tracking is more precise and smooth. It can film 1080p 60FPS videos at great quality. The camera also features an intelligent viewfinder, which provides full coverage as well as it shows all the information that is needed by the shooter. The camera also features a 45 point auto-focus. This helps to create best quality images with blurry effects and helps with tracking objects. This camera also comes with NFC and WIFI connectivity, for fast and easy transfer and sharing of footage and pictures. This kit indeed is a great choice for the beginners as it comes with everything a beginner will need at very attractive price point.
Sony PXW-X70 – Best Professional Camera
This is a great professional camera for the vloggers. It is a kit comprised of 3 piece multi-coated filter kit (UV+CPL+FLD), 2 replacement batteries, HDMI cable, 36 pin led video light and lastly, carrying case & microfiber cleaning cloth. Sony's PXW-X70 Professional XDCAM Compact Camcorder is very compact and about same size as many normal camcorders. It features a 1″ type sensor. This large Exmor R sensor size ensures that there will be more cinematic depth of field as compared to many conventional camcorders. It has 12 times optical zoom with manual ring and three filters that can be easily swapped. It also features a back-side illumination that improves low light performance. Top handle also features a 3 pin connector for microphones. This camera only record FullHD videos with XAVC Long-GOP codec and 10-bit color sampling at 50 Mb/second, which ensures high quality recording and data. It also features Sony's Slow & Quick Motion features for slow motion and quick motion recording. The camera has two SD card slots with simultaneous recording, and 3G-SDI and HDMI outputs. Furthermore, it has WIFI connection and it can be controlled by a smartphone through an application. There is a rumor that there will be an upgrade for this camera that will unlock a 4k recording function.
Is smartphone best budget alternative?
It's no secret that the camera on our smartphones have become more powerful and capable of capturing good quality and clear videos. We all own at least one smartphone. Nowadays, even cheaper phones have a decent camera for pictures and videos. There are people who use their phones for vlogging. However, there are some issues with phones that make it not the best choice for the vlogging. First of all, phone cameras are still unable to capture the details as well as the cameras do. Phones do capture some great details, but they compress the footage so that it does not take up phone memory too much. When converting those videos into a YouTube format or compressing it further for uploads, the videos have become washed out and lose their details and colors. Secondly, phones are not meant to be cameras. Phones can be great for taking pictures of videos, but their main function is not to take pictures or videos. Their main function is to be communication device. We receive messages and calls on our phones that might disrupt our vlogging session or force us to film the portion again. Phones sometimes has very limited storage and their SD cards are slow for saving huge video files. Furthermore, phones often get too hot while filming videos and become laggy and can even restart. The user can end up losing all the footage in the process. These are just few reasons why the phones are not the best alternatives for the vlogging. Do not get me wrong, I do not say it is not possible to use a phone for vlogging. It is possible to use it and many use phones for vlogging. However, those who start getting more subscribers or plan on becoming a more serious vlogger should think to replace their phone camera with something more suitable for taking videos.
Wrapping Up
YouTube has been around for many years. There have been many people uploading videos there. At first it wasn't a very famous activity. However, the recent popularity of YouTube has given rise to vloggers or video bloggers. Currently, making videos for YouTube is not just a hobby, but a career path for many online personalities. There are many people who are following those famous vloggers. The number of vloggers have increased drastically in the last few years. Many people do vlogging as a hobby or as a second job. Those kind of people are usually are not that active online and they post videos rarely. They have a normal job or classes and they only do vlogging at their free time. There are also the ones who give their 100% time for vlogging only. YouTube has become their full time job. Those are serious people and they spend most of their time making videos and posting them, as well as commenting on their videos and gathering information for their next videos.
One of the important elements of making videos is a camera. No matter how you look at it, there is a need for a camera when it comes to YouTube videos and vlogging. This created a demand for high quality and affordable cameras specifically made for vlogging. Some of those comers even allow posting video and pictures on Tweeter or Facebook directly from the camera. There are many cameras that are great for vlogging now. However, choosing one has become somewhat difficult, because there are so many different cameras and many people will get confused when choosing the right one. Some people who are just starting will find it confusing to choose a good camera because other vloggers use different cameras. With large product selection it is indeed difficult to choose the right one, because there are a lot of thing to consider when it comes to a camera for taking videos. The best camera for vlogging greatly depends on what the person is trying to capture and the conditions in which the person want to capture them. Those who are traveling will require a lightweight camera. Those who are involved in adventures and active outdoor sports will require something strong and sturdy. Those who want to capture details of the things they are filming will require something powerful that can capture those details. As we can see, the type of camera depends on the needs of a vlogger.
To sum up, for those who are looking for vlogging and YouTube cameras, there are a lot of cameras to choose from. They come at different price points and provide different function. As our list shows, there are a many great cameras available out there, whether you are just looking for a first time camera or looking for something budget friendly. For those who are really into an action and need something very strong and powerful GoPro Hero 5 is the best camera, as it has a strong construction and $k recording functions. For those who just want a camera for streaming, then Logitech c930 is a great camera. For those who want a great budget camera, then Panasonic HC-V180K is a great choice. It has everything a budget vlogger will need and capable to produce great videos. PANASONIC LUMIX G7 and Canon EOS 80D are great cameras for ther beginners. They both provide great video quality and many features that are suitable for vloggers. G7 comes at much cheaper price point, while EOS 80D comes in a kit that already includes everything a beginner will need for starting vlogging. Lastly, Sony PXW-X70 is a great professional camera with all the professional features. It creates great video quality and expected to be upgraded to support 4K recording.