Rejoice, 4k gaming monitor fans. The end of 2018 finishing with full of innovation and cutting edge technologies. Especially, 4k monitors are significantly kicking the limitations to the cliff. Yeah, "this is Sparta" claimed prominent monitor manufacturers such as Asus, Acer, LG, HP and Samsung. Time to prepare for 2019 and onwards for your gaming hardware setup. Luckily, most monitors did their important parts by providing latest breakthrough in refresh rate department. At last, 4k 144hz is possible now with less latency and zero bottlenecks to you Graphic Cards. If you are now looking for the best 4k gaming monitor 2019, this review post is just right to pick the most suitable for gaming.
No Time To Read? Click For Top Gaming Monitor Picks
Best 4K Gaming Monitor 2019
| Name | Review | Price |
| --- | --- | --- |
| Acer PREDATOR X27 | | |
| LG 27UK850-W | | |
| Asus ROG SWIFT PG27UQ | | |
| LG 27UD58-B | | |
| LG 27UK650-W | | |
| ViewSonic XG2700 | | |
| BenQ EW3270U | | |
| AOC AGON AG271UG | | |
| ViewSonic XG3220 | | |
| Philips Momentum 436M6VBPAB [Best 4k Gaming Monitor] | | |
Recently, new brands launched like Predator, ROG (Republic of Gamers) and Omen under famous companies. The purpose of these brands is ensuring the clear line between Gaming and Standard monitors. A notable Gaming brands are specially designed to meet gamer's choice. Once you buy 4k (2160p) with high refresh rate monitor you can save significant budget in a 5-7 years timespan. No need to worry for monitor upgrades like other people upgrading every 2 years with FHD to QHD (1080p) resolution. Without further ado let's begin to choose your best 4k monitor.
Acer PREDATOR X27 – Ultra Framerate King
Screen: 27 inch | Aspect ratio: 16:9 | Resolution: 3840 x 2160 pixels| Panel Type: IPS | Refresh Rate: 120 Hz (144 Hz OC) | Response time: 4ms | Adaptive Sync: G-Sync | HDR: YES | Connectivity: HDMI, DP | Color support: AdobeRGB 99% | Speakers: No | Weight: 27.06 lbs.
Acer just came up with shocking 4K resolution monitor to cheer up gaming enthusiasts. Predator X27 is the one of its kind, making the name as the earliest monitor to pack a whopping 144 Hz in its punch. Finally, that means gamers' dream come true to push their gaming PCs' capabilities to 144 fps. The response time is quicker too with 4ms rating. Surprisingly, Nvidia's G-Sync adaptive technology chip intend to help you with premium HDR support and tearing free gaming process. Further we go in specifications and we find Quantum Dot technology per 10bit color with AdobeRGB color gamut. Thus, IPS matrix technology will take care to give eye friendly true color visuals. Consequently, it has very high price tag under $2k. However, it's worth getting it for long term. In a nutshell, your personal computer must have strong graphic card to run games above 60 fps and multicore processor to handle heavy logical processing tasks. We assure you these particular specs are future proof for next 5 years. So, is your PC specs ready for this incredible 4K monitor's demands?!
LG 27UK850-W – Smooth Gaming Greatness
Screen: 27 inch | Aspect ratio: 16:9 | Resolution: 3840 x 2160 pixels| Panel Type: IPS | Refresh Rate: 60 Hz | Response time: 5ms | Adaptive Sync: Freesync | HDR: YES | Connectivity: HDMI, DP, USB type C | Color support: sRGB 99% | Speakers: Yes | Weight: 19.8 lbs.
LG's monitors tend to deliver gaming experience beyond the immersion into lifelike dreams. Here's the long awaited true immersive gaming monitor LG 27UK850-W brings to the table advanced gaming features like split screen and borderless frame design might be converted into 8K resolution if you add 3 more similar monitors. Freesync second generation with HDR10 support provides zero stuttering and screen tearing. 5ms response time is attractive solution for fast paced games. HDMI HDR, Display Port HDR version 1.2 and USB Type C connectivity ports enhances your latest PC or console hardware with many options to stick them in. Adjustable display and on-screen control special features give you full control over the viewing angles and image settings. It also possess built-in speakers that triggers your budget not to buy external speakers. To sum up, under $700 price is very attractive for gamers and designers who appreciate their eye health with great IPS monitor.
Asus ROG SWIFT PG27UQ – Definitive Dreams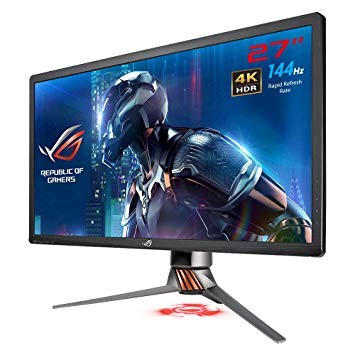 Latest Price
Screen: 27 inch | Aspect ratio: 16:9 | Resolution: 3840 x 2160 pixels| Panel Type: IPS | Refresh Rate: 120 Hz (144 Hz OC) | Response time: 4ms | Adaptive Sync: G-Sync | HDR: YES | Connectivity: USB, HDMI, DP | Color support: 97% (DCI-P3), 99% (Adobe RGB)| Speakers: No | Weight: 28.06 lbs.
At last, Asus released definitive 4K gaming monitor to compete with Acer Predator series. Incredibly, PG27UQ model supports Asus Aura Sync RGB lighting on the bottom of its ergonomic stand. Surely, IPS matrix panel is right for your eye care. Default refresh rate is 120 Hz however overclocking feature can push your gaming refresh rate (FPS) further towards 144 Hz. Hence, screen is able to rotate vertically and adjust according to your preferred angle. Amazing Adobe RGB color gamut is edged to 99%, making it best immersive display for detailed game-world exploration. Nvidia's Gsync adaptive sync technology is here to enhance stutter free and zero tearing experience. Response time is standard 4ms. So, the price is jaw dropping $2.5k but anyway it deserves this price point because 144 Hz 4K monitor makes you to save more in a long term due to future proof specs.
LG 27UD58-B – Premium Immersion on Cheap
Screen: 27 inch | Aspect ratio: 16:9 | Resolution: 3840 x 2160 pixels| Panel Type: IPS | Refresh Rate: 60 Hz | Response time: 5ms | Adaptive Sync: Freesync | HDR: NO | Connectivity: HDMI, DP | Color support: NTSC 72% | Speakers: No | Weight: 15.6 lbs.
Not bad at all. Considering the standard specs and freesync AMD GPU support to enhance stable framerate with zero tearing. IPS is also main highlight in this case. Most important, you can save lots of money on this monitor. Decent 60 fps could be your dream on 4K with this lower price tag around $300. One more notable feature is on-screen control by LG, you may use this software to split the screen into 2 or 4 split screens. The color support is also reasonable when you focus only on gaming. We recommend this monitor for long sitting strategy games as your eyes would be comfortable with IPS display.
LG 27UK650-W – Unlimited Immersion
Screen: 27 inch | Aspect ratio: 16:9 | Resolution: 3840 x 2160 pixels| Panel Type: IPS | Refresh Rate: 60 Hz | Response time: 5ms | Adaptive Sync: Freesync | HDR: YES | Connectivity: HDMI, DP | Color support: sRGB 100% | Speaker: No | Weight: 19.8 lbs.
Phenomenal immersion into 4K gaming dream is achieved by LG 27UK650-W. With Six axis control joystick is very swift and friendly to adjust to any mode. HDR 10 support is enabled by AMD's Freesync second generation. Although, response time is 5ms, here you have standard reaction time overall. Hence, 60 Hz refresh rate means 60 fps is guaranteed to heavy gaming guy with premium PC. IPS type of panel tends to deliver true image's color and game character's details. Frame body may tilt and also able to rotate for professional use. sRGB 100% color gamut will give you ultimate luminosity experience. This monitor is consistently on sale for sub $600 in North America. To finalize, LG came up with brilliant gaming monitor product for mass market in terms of price to performance which will make you to immense in colorful RPG and turn based strategy titles.
ViewSonic XG2700 – Super clear Dreams
Screen: 27 inch | Aspect ratio: 16:9 | Resolution: 3840 x 2160 pixels| Panel Type: IPS | Refresh Rate: 60 Hz | Response time: 2ms | Adaptive Sync: Freesync | HDR: NO | Connectivity: HDMI, DP, USB | Color support: sRGB 100% plus NTSC 75% hybrid | Speakers | Weight: 18.43lbs.
Viewsonic is not behind others on every aspect. The latest ultimate ViewSonic XG2700 4K monitor product is boasting with premium features. Very ergonomic body frame design makes it as a heavy duty monitor for gamers and professionals. Similar to other monitors, refresh rate is standard 60 Hz that gives you 60 fps enhanced by PC hardware. Adaptive sync technology is linked to AMD's Freesync team. If you enjoy legendary FPS like Doom (Vulkan API) please get AMD Radeon RX Vega 64 Graphics Card this monitor will give you 60 fps with no tearing experience on high settings. sRGB 100% method of color support delivers colorful gaming process. Most highlighted feature here is 2ms fast response time that enables less latency for FPS titles. Well, tight budget 4K gamers would love this perfect monitor because it lands on sweet price point just under $600.
BenQ EW3270U – Multipurpose King
Screen: 32 inch | Aspect ratio: 16:9 | Resolution: 3840 x 2160 pixels| Panel Type: VA | Refresh Rate: 60 Hz | Response time: 4ms | Adaptive Sync: Freesync | HDR: YES | Connectivity: HDMI, DP, USB | Color support: 95% DCI-P| Speakers: Yes | Weight: 21.5lbs.
It's too big but very true gaming and office purpose leader. 4K monitor Benq EW3270U comprises full Freesync HDR support with a standard 60 Hz refresh rate. VA (vertical alignment) panel type also provides true image quality. 4ms response time would be more than enough for your fast gaming needs. Benq always have been associated with eye caring features so here same technology is provided in EW3270U model. It effectively filters blue light and reduces eye discomfort. Very interesting point is this monitor possess intelligent adjustment technology to control the brightness according to ambient light conditions and color temperature depending on real time screen content. Additionally, USB type C connectivity extends your laptop or MacBook using experience into color rich gaming or work related tasks. Here we go with competitive pricing on Benq EW3270U, easily sticks under $800 with higher quality and unique features that's not bad at all.
AOC AGON AG271UG – Solid 4K Competitor
Screen: 27 inch | Aspect ratio: 16:9 | Resolution: 3840 x 2160 pixels| Panel Type: IPS | Refresh Rate: 60 Hz | Response time: 4ms | Adaptive Sync: G-Sync | HDR: NO | Connectivity: HDMI, DP, USB | Color support: 16.7 Million| Speakers: Yes | Weight: 14.9 lbs.
Silky smooth 4K resolution images: The AOC AGON AG271UG packs a 27 inch 4K IPS panel capable of a 60 Hz refresh rate and a short 4 ms response time. The IPS technology allows wide viewing angles of up to 178 degrees. NVIDIA G-SYNC special chip lets gamers enjoy fast-paced visuals at 4K resolution without any stuttering, tearing, or input lag. With its 4K resolution of 3840 x 2160 pixels, this 27 inch display boasts an immense pixel density. Like all models from AOC's premium gaming monitor line-up AGON, the AG271UG is equipped to improve gamers' satisfaction. The AOC Ergo Dial Base lets users adjust tilt, swivel and height (height scale included) to maintain a healthy and comfortable posture. Users who spend long hours in front of a monitor will experience less eye-fatigue and eyestrain with AOC's Flicker Free technology, while AOC's Low Blue Light option reduces potentially harmful short wavelength blue light. Gamers who want the upper edge can use AOC Shadow Control which brightens overly dark areas and vice versa without affecting the rest of the screen. Pro gamers will also appreciate features such as very unique headset holder and a carrying handle for easy mobility.
ViewSonic XG3220 – HDR on Steroids
Screen: 32 inch | Aspect ratio: 16:9 | Resolution: 3840 x 2160 pixels| Panel Type: MVA | Refresh Rate: 60 Hz | Response time: 5ms | Adaptive Sync: Freesync | HDR: YES | Connectivity: HDMI, DP, USB | Color support: 8-bit+Hi-FRC| Speaker: Yes | Weight: 25.1 lbs.
4K gaming experience on PC or Console? Why not use both? Experience with the ViewSonic XG3220 4K Ultra HD gaming monitor, you get everything you need in a crossover display with faster-than-TV input response. Featuring 3840×2160 resolution, this 32 inch monitor provides amazingly sharp and detailed visuals, while HDR content support delivers a high dynamic range of vivid color and contrast for incredible screen performance. For Xbox console gamers something good coming at last AMD enables Xbox One X console to sync with Freesync monitors. Specifically, AMD FreeSync standardized monitor reduces image tears and choppiness for smooth gameplay. An exclusive ColorX gaming mode delivers optimum speed and visuals, while an arsenal of pre-set customizable visual modes keep you ready for any FPS, RTS, or MOBA gaming scenario. Furthermore, a customizable 22-level black stabilization function helps you target enemies lurking in the dark, while the monitor preserves luminously rich colors and contrast. With future-proof DisplayPort and HDMI 2.0 to support 4K UHD resolution at 60Hz, this monitor pushes the limit of gaming process potentially for console and ultra-gaming PC.
Philips Momentum 436M6VBPAB – Redefine Your Dreams
Screen: 43 inch | Aspect ratio: 16:9 | Resolution: 3840 x 2160 pixels| Panel Type: MVA | Refresh Rate: 60 Hz (80 Hz OC) | Response time: 4ms | Adaptive Sync: Freesync | HDR: YES | Connectivity: HDMI, DP, USB type C | Color support: NTSC 119%, sRGB 145% Hybrid | Speakers: Yes | Weight: 25.1 lbs.
Philips just threw themselves to the hot gaming monitor competition industry with 43 inch behemoth monitor. The following monitor Momentum 436M6VBPAB supports full 4K native resolution through Display Port with effective 60 Hz refresh rate, anyways if you tweak it to OC mode it may offer you 80 Hz. Response time is quicker too in short 4ms. Thanks to AMD's latest generation Freesync HDR10 support for delivering smooth gameplay experience with zero tearing or stuttering. It packs with internal built-in speakers that can save your money on external ones. Most attractive feature of this incredible tech is Quantum Dot which is able to provide high contrast true color. MVA matrix panel type is installed on screen making it friendly to your eyes by filtering blue light. Hence, Ambiglow enhanced lighting extends colorful brightness in gaming process. For budget 4K gamers it could be bang for your buck because sub $1000 is perfect sweet price tag into future proof planning.
Gaming Monitor Buying Guide 2019
The Word "Gaming" is seriously meant for gaming, our shortlisted choice is made by experienced gamers who appreciate the manufacturers' intentions to push the boundaries in terms high performance, affordability and durability. Therefore, this dedicated article is incredible explanation on why "Gaming" term is highlighted by gamers as much as human needs water to live. Gamers, whereas First Person Shooter (FPS), Real Time Strategy or Role Playing Game players, easily know about what it takes to be effective winners in a hot competition. Today, our intention turns into broad market of Gaming Monitors. When you purchase quality monitor from respected company you always have high expectations in terms durability, reliability and future proof. Of course, monitors might be future proof compared to other components in your Gaming Personal Computer (PC). For instance, it only takes 3 years till your Graphics Processing Unit (GPU) becomes outdated or unreliable for fast gaming experience, besides that, your Central Processing Unit (CPU) might be slowing down within 5 years. However, Monitor can serve you well throughout your competitive gaming life with the expectancy of 5-7 years' service if you made a right choice. So our top 10 list choice is focused on terms such as resolution, matrix technology, size, response time, adaptive sync technology, refresh rate, color support, aspect ratio, brightness, viewing angle and weight.
Resolution
The number of distinguished pixels that are stretched through width x height. For instance, 1280x720p is considered as 720p or HD (High Definition), thus, term became a cornerstone for Gaming PC hardware. Early 2000s, it all started with 720p resolution which paved the way to the intensive GPU manufacturers' competition later adopting mainstream 1080p (FullHD) and 1440p (2K). Nowadays, 4k resolution (2160p) is obviously getting to be popular choice of PC gamers. This list is dedicated for 4K Gamers preference on monitors. Gamers precisely believe that higher resolution gives you in-depth graphics image details while GPU is rendering in real-time process. All heavy works are assigned to GPU's power, as a result your GPU must have much firepower on hardware level. For best 4K gaming experience we strongly recommend Asus ROG Strix GTX 1080 Ti 11GB OC or Sapphire Nitro RX Vega 64 8GB OC. These cards possess best cooling solution and cutting edge performance in the market. All GPU pricing you can check in best graphics card review
Panel Matrix Technology
In-Plane Switching (IPS) mode panel provides true color experience while you focusing on graphics details, to be short, your eyes see every object's details in exact colors even from sharp angles because the pixel's matrix position builds images according to chevron shape, this is why 3D designers who develop characters need IPS monitors which can provide consistent colors in stable response time. Nowadays, IPS panel monitors are improving quickly in terms of refresh rate and bit expensive in price point but worth to invest. The eye friendly Vertical Alignment (VA) panels are cheaper and very useful to gaming needs with fast refresh rates (144hz) and response time (1-4ms), although it cannot offer you precise true color experience, anyway winning the game and toping the leaderboards are most important. Twisted Nematic (TN) is the old technology in monitor industry, easy to produce, much lower price tag however it has fastest refresh rate up to 240hz (240fps) and less latency compared to IPS, if you sit closer to it you might notice blue light excess therefore we do not recommend you to use it for longer time maybe 2 hours enough as TN panel long usage may harm your healthy eyes.
Size
Firstly, 24 inches screen is a standard preference for most gamers. Hence, 27 inches offers you detailed view from any angle and you might sit further to see whole picture while enjoying your drinks. Amazingly, 32 inches enhances broader view to your family members or friends who may support you while you gaming with hard to defeat boss character or PUBG (Player Unknown's Battlegrounds) competition.
Response time
The command given by user to the hardware and monitor reacts to it in a split second, which is the monitor response time. Obviously, 1ms is the fastest response time ever in the latest generation of monitors, FPS (first person shooter) gamers desire is likely to be less latency. If you play third person games like Shadow of Mordor or Final Fantasy, cheaper option 5ms is already meeting your demand. Between 1ms and 5ms will be not much different gaming experience because both are quick enough to deliver stable frame rates.
Adaptive Sync Technology
Rejoice, this time around screen tearing and half screen freezing will go away forever. Gamer finds sometimes hard to select between AMD's FreeSync and Nvidia's G-Sync. The choice is clear when you identify the GPU you playing with. Vertical Synchronization of particular frame per second is popular graphic's setting, unfortunately, vertical sync provides dramatic drop in frame rates. Therefore, two giant companies launched their own technologies to solve this problem in gaming industry. AMD adopted Freesync technology which is majority monitor manufacturers' massive production inception since 2014. Unlike G-sync, Freesync is way cheaper and supports all AMD GPUs latest lineup. However, G-sync is bit expensive and not compatible with all Nvidia's GPUs but it comes with more precision and lesser latency support with HDR. Recently, Freesync 2 HDR support based monitors released in 2H 2018 resulting the hot competition to the table.
Refresh rate
This specification of monitor is the important feature where word Gaming defined. Massively adopted 60 Hz (Hertz) monitors are fading away from gamer's shopping carts. The reason is that 60 Hz only can give you 60 fps (frame per second) output. Difference between 60 Hz and 144 Hz monitors is comparison of Heaven & Earth. It is simple, 144 Hz wins your heart and minds easily. For example, game like PUBG requires higher frame rate to produce quick reaction against your opponents. 120 Hz or 144 Hz is the way to go. Please note that every 4K monitor has to be connected via Display Port in order to achieve stable 60 fps. All in all, the GPU can push its full capacity when it's connected to 144 Hz monitor as a result giving you 144 fps. What a great time to live now?!
Color Support
While Gamers mostly focus on gameplay process. Sometimes few of them prefer color depth of their monitor when it comes to choosing character customizations. Most variety of monitors come with sRGB (RED GREEN BLUE) color support, meaning that maximum number LCD panel's color reproduction method. Typical current generation monitor produces 16.77 million colors in 8 bit matrix specs. Furthermore, 3D LUT (Look Up Table) monitors generate smooth three dimensional blending transition from color to color in 10 or 12 bit specs and gaining accurate brightness, chroma and hue. Generally speaking, 3D LUT monitors are specifically oriented for 3D developers and costume designers. As a consequence, sRGB monitor is a good choice for gamers.
Aspect Ratio
This term defines the Height and Width of a gaming monitor. 16:9 is the most popular wide screen monitor aspect ratio. All latest games well optimized for 16:9. Some old games might run only on 4:3 because of graphics settings limits. Hence, several 2018 monitors have 21:9 Ultra Wide aspect ratio obtained little bit popularity with less optimized games (especially old titles). Some software driver support for Ultra Wide monitors are very poor. All in all, we recommend 16:9 aspect ratio for peace of mind.
Viewing angle
Luckily, majority monitors produce true image despite the way gamer positioned to view. Older generation monitors could not satisfy you with dark blue or red violet color when you look from 45 or 75 degrees. Latest generation displays offer you immense true colors from any angle you view according to 178 degrees / 178 degrees standards.
HDR
Last but not least, prominent monitor manufacturers able to push the limit of displaying technology by producing HDR (High Dynamic Range) monitors. Scientists simply define HDR as an adaptation of the image which gives high level of luminosity. For quick example, human eye able to achieve true luminosity while staring at the picture for 5 minutes. This process can be done by HDR supported monitors easily in a split second. Mobile phones also have HDR feature in their camera but the rendering process takes 2 seconds to complete.
Also read
[pt_view id="2bdac33nr0″]